Instant Life Quotes

Universal Life Insurance Definition
---
Got Questions? Get Answers!
866.866.0242
What is the Definition of Universal Life Insurance?

The technical definition of "Universal Life Insurance" is a permanent life insurance policy based on cash value with flexible premiums. Of course, you'll need to know what the other terms mean to truly understand universal life insurance.
---
What is a Flexible Premium?

A flexible premium is one that can change over time or as needs arise. For instance, if you are having a good cash flow, you can pay more. Then, if your income suffers a setback, you can reduce or even eliminate your premiums altogether for a period of time. Of course, you want to be wary, and speak with a trained insurance counselor before purchasing one of these policies.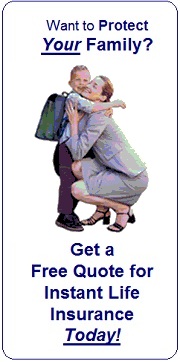 Comparing Life Insurance Policies?
What Does Permanent Life Insurance Mean?

A permanent life insurance policy is one that will remain in force so long as the monthly or annual premiums are paid as scheduled. That means one life insurance policy will last your entire life.
What Does "Cash Value" Mean?

A life insurance policy that builds cash value acts like a savings account or other investment. When you make deposits (your premiums) you earn interest at a predermined rate. If your policy is indexed universal life insurance, interest earned will be tied to the performance of the stock market or some other index.
Getting Accurate Universal Life Insurance Quotes

In order to provide you with the most accurate in Universal Life Insurance quotes, please start by calling one of our Universal Life Insurance specialists at 866-866-0242 before making your decision. This way you can be assured of understanding the definition of Universal Life Insurance and having the best Universal Life insurance policy as a result.

"Thanks for all of your help and persistence in getting me a policy. It has added immensely to financial security needs of me and my family.

You have taken a great load off of my wife's mind as she now knows that she and my children would be provided for if something should happen to me.

Thank You,"

- Lynn E, Florida